IPHONE & IPAD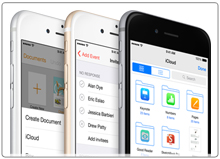 Iphone 6
iPhone 6 is even more powerful for business with an A8 chip built on a second-generation 64‑bit desktop-class architecture, Touch ID fingerprint identity sensor, great battery life, faster LTE wireless, thousands of apps for business and iOS 8 — all in a thin, seamless design.
Readmore...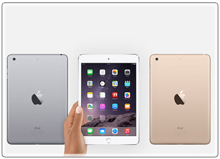 Ipad mini 3
We made iPad mini small. We made it fast. We made it incredibly capable. And now we made it even better. With advancements like Touch ID and iOS 8, and a new gold finish, there's even more about iPad mini to love.
Readmore...
IPHONE 6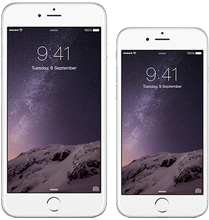 iPhone 6 isn't simply bigger — it's better in every way. Larger, yet dramatically thinner. More powerful, but remarkably power efficient. With a smooth metal surface that seamlessly meets the new Retina HD display. It's one continuous form where hardware and software function in perfect unison, creating a new generation of iPhone that's better by any measure.

In creating iPhone 6, we scrutinised every element and material. That's how we arrived at a smooth, continuous form. A thinner profile made possible by our thinnest display yet. And intuitively placed buttons. All made with beautiful anodised aluminium, stainless steel and glass. It's a thousand tiny details that add up to something big. Or in this case, two big things: iPhone 6 and iPhone 6 Plus.
RETINA HD DISPLAY

NOT JUST A BIGGER DISPLAY. A BETTER DISPLAY.

The size of the new, higher-resolution Retina HD displays on iPhone 6 and iPhone 6 Plus may be the first thing you notice. But what you experience is so much more. With innovations that deliver higher contrast, dual‑domain pixels for more accurate colour at wider viewing angles, and an improved polariser, these are the thinnest, most advanced Multi‑Touch displays we've ever made.
Technology
Hugely powerful. Enormously efficient.
iPhone 6 features an A8 chip built on second-generation 64-bit desktop-class architecture. Its incredible power is enhanced by an M8 motion coprocessor that efficiently measures your activity from advanced sensors, including a new barometer. So you can do more, for longer periods of time, with better performance and battery life.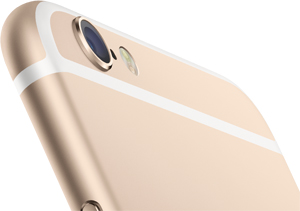 CAMERAS

THE CAMERA THAT CHANGED PHOTOS NOW DOES THE SAME FOR VIDEO.
Every day, people take more photos with iPhone than with any other camera. That's because the iSight camera makes it so remarkably easy. Now, in addition to its large 1.5-micron pixels and ƒ/2.2 aperture, the world's most popular camera is packed with new technologies to help everyone take more great photos.
To make it just as easy to shoot amazing video, we added new features like the option to capture 1080p HD at 60 fps, 240-fps slo-mo and time-lapse video. And you can shoot HD video and then watch the stunning results on the large Retina HD display.

CONNECTIVITY
FASTER WIRELESS.
FAR AND WIDE.
A super-fast connection can make you feel like the whole world is within reach. That's why iPhone 6 has faster download speeds1and the ability to connect to networks all over the world. It also supports more advanced wireless technologies to boost performance and help you connect to the things - and people - that matter most.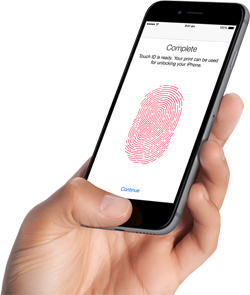 TOUCH ID

SECURITY. RIGHT AT YOUR FINGERTIP.
Your fingerprint is the perfect password. You always have it with you. And no one can ever guess what it is. Our breakthrough Touch ID technology uses a unique fingerprint identity sensor to make unlocking your phone easy and secure. And with new developments in iOS 8 and Touch ID, your fingerprint will grant you faster access to so much more.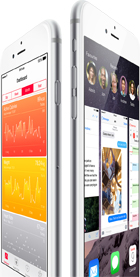 IOS 8

THE BIGGEST IOS RELEASE EVER.
It's not just iPhone 6 that's bigger. The world's most advanced mobile operating system has made a huge leap too. iOS 8 has new capabilities and functions that let you do things you could only imagine before, like using your health and fitness apps to communicate with your doctor. Developers now have deeper access and more tools to bring some of the amazing new features of iOS 8 to their apps. And it all looks great on the large Retina HD display.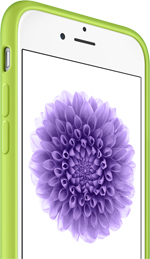 ACCESSORIES

THE PERFECT FIT. AND FINISH.
Make a statement. Cover every curve. Get fully charged. See all the essential Apple-designed accessories and more for iPhone 6 and iPhone 6 Plus